Let's take a second to talk about fuel control modules. There seems to be this paradigm that they magically increase the HP of your bike by no less than 5% as soon as you hook them up. While there is the potential for power gains, they can just as easily harm your performance if not used correctly. And there's not just one type out there, which makes it even more difficult to figure out what you really need. Products range from the most basic analog units like a Cobra FI2000 or a Two Brothers' Juice box, to the much more finely adjustable units such as a Power Commander or Bazzaz Z-Fi. All fuel control units operate in the same manner, they plug in line between your bike's ECU and the injectors. They receive the injector signal from the ECU, which is a pulse of voltage with X duration, and modify that pulse to a different duration. By increasing the duration the injector is held open longer and more fuel is sprayed into the cylinder; the inverse is also true, by shortening the injector pulse you can put less fuel into the cylinder. But not all fuel control modules have the same capabilities and you definitely get what you pay for.
There are essentially two types of fuel control modules, digital and analog. Both types use internal circuit boards to read and modify injector signals, so it's the style of the user interface that I'm referring to. All adjustments for analog units are made on the control unit itself with some sort of manual adjustment, either with dials and/or buttons. This was perhaps the first type designed when fuel injected bikes first started hitting the scene, and very much reflects the style used to tune carbs. Most of these units feature three dials, which are your Low, Mid, and High speed adjustments just like the three jets in a carburetor. Even worse than tuning a carb is that some of these units aren't even capable of decreasing fuel output, only increasing it. The analog units have gotten more and more tunable, but the fact remains that you are trying to fine tune your fueling by making blunt changes to large ranges. Pictured below are pictures of two analog modules, note the dials that you have to turn to adjust your fueling.
The factory ECUs on our bikes employ what is called a fuel map; these are not simple two dimensional graphs, as they depend on the input from a variety of different sensors to compensate for all the different atmospheric and mechanical conditions that effect fueling. However since the atmospheric conditions will affect the entire range of fueling, globally either adding or taking away fuel, we can focus on just two factors that aftermarket fuel control units account for (though we'll add in two more later). Digital fuel control units utilize maps graphed by RPM and Throttle Position to change the fueling signals from the factory ECU. One such style is represented below: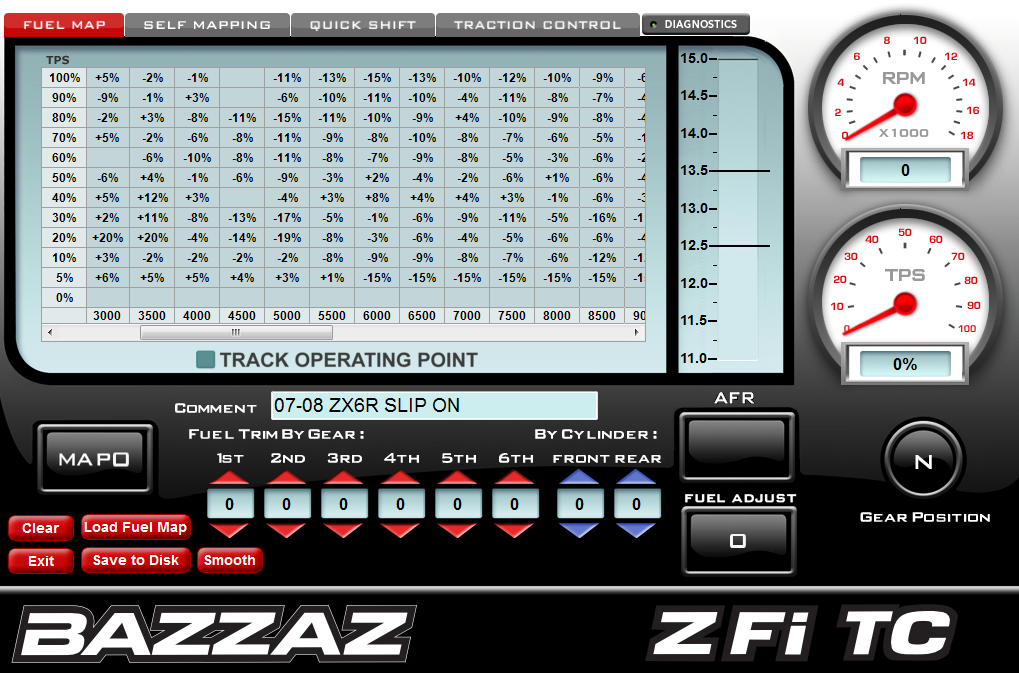 These types of fuel control modules are much more accurate and fine tunable. The control units read the bike's RPM and throttle position and are able to adjust the stock fueling at every position to a very accurate degree. With the increased tunabilty comes a slightly more in depth instillation and larger price tag, but the potential to increase your bikes performance is much greater.
Factory fuel maps are made not to give your bike the best performance but to appease the EPA and get decent gas mileage; this means that you get inconsistent fueling and sometimes choppy power delivery. When you put an exhaust system on your bike it compounds this issue, making your bike run leaner than before. No matter what mods you have on your bike, you could always benefit from good custom fuel tune, even if you're completely stock.
My personal opinion is if it doesn't have a finely adjustable map, it's not worth buying. Trying to enhance your bikes rideability and performance with an analog unit is like trying to play Fur Elise with your fists.
Before I go any further, and start comparing the two major brands of fuel control systems, I need to disclose that I did indeed used to work for Bazzaz. But I had Power Commanders on both my bikes, and was trained on Dynojet's line of products well before getting hired on at Bazzaz. So I've used both systems, and ridden both of my bikes many many miles with PC's and Z-Fi's installed on them.
Dyno Jet is very much a promoter of the map sharing philosophy; they even have a database of multiple different maps for multiple different set-ups on their web site, for each model bike. This line of thinking certainly fits with the file sharing nature of today's society, but it doesn't work very well. Those maps have been made all around the US and the world, under many different atmospheric conditions, by who knows what tuner. If you just want to plug and play and go, then a pre-made map will be OK; just don't expect a miracle performance increase. At Bazzaz we send our control units out with one map pre-installed, simply so the user can plug the system in and go ride. But for anyone looking to get the true benefits out of their fuel control system, a custom map built for your bike, is the only way to go.
Both Bazzaz and Dyno Jet have a supplementary fuel mapping system that uses an O2 sensor to adjust the fuel map in the control unit. Bazzaz's Z-AFM is an auto fuel mapper, collecting AFR (Air/Fuel Ratio) readings while you ride, but not applying any changes until the user tells it to. Dyno Jet's system is an auto mapper, making constant changes while you ride. Again these are two different schools of thought. Bazzaz has drawn its experience from the racing world, where teams prefer absolute control over their electronics, not wanting the system to make any changes on its own, in case a sensor goes out or the systems adjustment parameters take the engine out of the peak operating range. Dyno Jet's auto tuner is a "install it and leave" kind of thing; once you plug it in, it supposedly constantly adjusts your fueling to keep your bike in the ideal AFR range. The problem is that too often I hear riders complaining that the auto tuner takes their map way out of adjustment either because it wasn't set up correctly, there was lag in the system, or the O2 sensor started to fail. But the type of auto fueling system you use is ultimately user preference, since both can be used effectively in the right hands, with the right attention to detail.
The next difference between these two brands of fuel control systems is the way their fuel maps are structured. You've already seen the Bazzaz fuel map layout, so let's take a look at Dyno Jet's.
Bazzaz and Dyno Jet have two different approaches to the resolution of their maps. The Power Commanders have a finer RPM resolution and a varied throttle position resolution. Bazzaz increments it's RPM by 500 instead of 250, and it's TPS by 10% with the exception of the first 5% increment. I have had a few "in depth" conversations with different tuners as to the merits of each system. Many argue that they can achieve a smoother AFR curve with Power Commanders because their RPM increments are smaller. However this is a very single purpose way of looking at fuel tuning. It may look good on paper, when you do your 100% dyno pulls, but when you actually ride the bike, you'll get a greater amount of fuel change in 20% throttle than you will 250 RPM. So while the Power Commanders may have excellent fuel map resolution from 20% throttle position and down, all the data above that is very spread out. Bazzaz maps have a much more uniform and accurate resolution all throughout their maps, which produces much more enhanced and predictable throttle response.
You would think that with the small throttle position and RPM increments under 20% throttle that Power Commanders would have superior ridability in stop and go city traffic situations. However this has been anything but my experience with the PCIII I had on my 07 ZX6R. The on-off throttle response was extremely sudden and jerky, and none of the maps on Dyno Jet's web site improved that. It took hours of trial and error manual tuning to get the response even slightly smoothed out. When I finally put the Bazzaz system on the bike, not even with a custom tune just the pre-loaded map, it was ten times smoother going between off throttle and slightly on throttle.
Power Commanders may indeed have a slight advantage in the V-Twin market, as they can build a separate map for each cylinder, as opposed to Bazzaz where we only do cylinder trim. When the Bazzaz system was first being developed, extensive testing was done with both on the dyno and on the track and it was determined that the two cylinders of modern liquid cooled v-twin were never different by more than 3%. This was the reason for going with a cylinder trim only option, but the demand is out there for individual maps for each cylinder, and at Bazzaz we're all about listening to our potential customers. The Trim vs. Individual Map theme continues into differentiation between gears as well. Bazzaz offers a fuel trim by gear option, whereas on a PC V you can build a different map for each gear… providing you have the additional gear sense wire installed, since the ability to read gear is not built in to the base model of a Power Commander.
Here is another huge difference between Bazzaz and Dyno Jet; Dyno Jet's Power Commander at its base level does very little. It can control the four primary injectors with a map built off of RPM and Throttle Position. To do anything else, you have to start buying all the extras, and plugging them into the base PC unit, and finding space to put the extra modules, and routing more wires, and and and. Bazzaz gives you the full capability of your chosen system, right out of the box. So that means when you install a Z-Fi QS, which is one single control unit, you can control all eight injectors on your bike, trim by gear (and cylinder if you have a v-twin), and have a quick shifter. The only extra module you would ever have to buy is the Z-AFM, which allows you to build your own maps. Can a PC V hold a map for each cylinder in each gear? Yes. But you have to buy all the extra goodies to do it.
Now let's circle back to the four injector vs. eight injector topic really quick, because I know if I don't touch on this now it's going to be asked about later. Most inline four sport bikes made after 2004 have two sets of injectors, one set in the throttle bodies (primaries) and one set in the air box (secondaries). The secondaries are typically inactive below 6,000 RPM, but after that they can do 40-60% of your fuelling. The advantage to being able to control the secondary injectors is proportional to the size and/or extent of modification done to the bike. For example, you won't see nearly as much gain by controlling all eight injectors on a stock 600 as you will on a turbo powered Busa. But like I said before, those secondary injectors that Dynojet isn't controlling, can be doing 60% of your fueling in the higher RPMs, meaning you have to make a much more extreme map to get the primaries to compensate. It's four more connections on the wiring harness, and a couple more circuits on the circuit board, why not give everyone that capability straight out of the box?
While there may be a difference of only a couple hundred dollars between the most basic analog fuel control unit, to the most capable digital unit, the difference in comprehensive fuel control ability is exponential. I know that most of us are on a budget, and getting together $350 to spend on a fuel control system might be challenging. But don't short change yourself; buy a quality system that has the ability to really fine tune your machine to the point where it's running smoothly and efficiently.