Discussion Starter
•
#1
•
I have two led strips attached to my brake light in this form: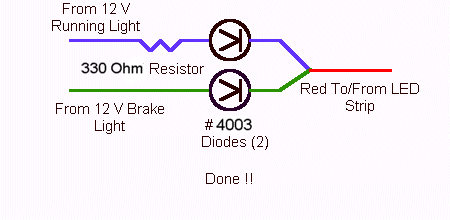 remember i have two strips not just one. The black (-) runs to the neg on the battery.
This set up runs the led strips at 8v and when the brake is pushed (same as your brake light) they light up.
Only problem i have is one led strip burns out this is the 2nd time i replace the strip. the wires are connected with butt splices. and disconnect pairs.
I followed this websites instructions.
The Venturers - Yamaha Venture Technical Support Library