I got another 1/2" by just loosening up a few bolts lifting the rear & tighten the bolts.
(be good to have someone hold it for you as you do this) But as you will see, It can be done alone.
It really is that simple, I got 1/2" that way, But a few minutes with a file could get you even more.
First get a measurement. tape it in place to free up your hands, always measure to a fixed spot, here I use the under-seat key hole,
But any spot will do, Just stick another piece of tap on the top & mark it.
Ok time for some pics,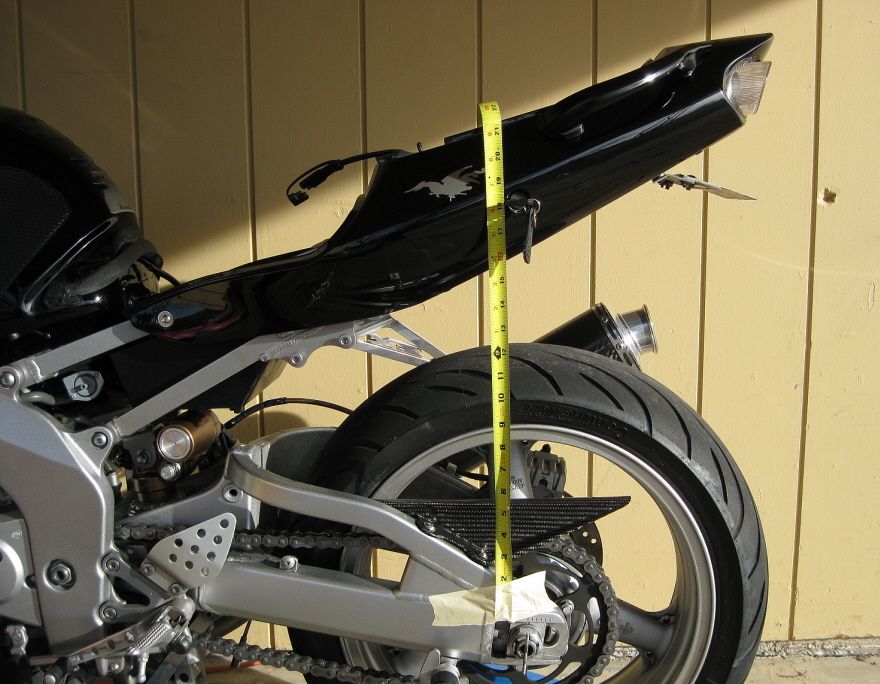 Here's a closeup, we can see 18"
Now you want to loosen the 4 subframe bolts, & take another measurement.
If its the same as the first one, then your sub is setting at the bottom of it range of movement.
This means you can move it up as I did 1/2".
Now loosen the front two tank bolts & remove the rear two.
Now your ready to lift up on the rear & take another measurement.
Here's a closeup of what I got after lifting her up & yes that is a screwdriver holding up my baby's ass.
Here's the lower frame tab that's keeping the sub from coming up farther,
A little time with a file could get this down enough to raise it more,
(Careful here though, You wouldn't want to remove to much.)
There is still a bit of a gap, @ this point I believe the front tank bolts are holding us off, bend the tabs a bit & you can go up more
The tank comes right up with the sub, But to go much farther as I said, you might have to tweak the front tabs to maintain the right angle for the bolts to line up.
& here's the top, It now has a large gap, See there is some play/room for movement here.
Now the proper way to do this would be to spot-weld a shim or a washer would work.
Done