Which is the prettiest ZX6R of all? This has been a topic of much debate within the Ninja community.
Well, now I'm gonna set up a thread about the the various Ninja ZX6R's throughout the years and give my own opinions about each as well as a brief summary. My goal in this is to see model what is regarded as the prettiest Ninja 6 of all time (at least according to us).
Now please remember to look at this as a design study. Don't argue that yours is the nicest just cause you have one(we like our bikes too).
This thread will specifically deal with ZX6
R
models. Earlier ZX6's won't be included. Also all the bikes are displayed in whatever hue of green kawi chose that year to keep it less about color and more about the design and execution.
Let's begin!
1995-1998: The beginning of a legend. The first ZX6-R screamed racetrack with it's ram-air induction and aerodynamic bodywork. Starting to look dated today but still very much a good looking machine. The paint was even wilder with racing graphics and bold colors. Never was much a fan of the single headlight though. and it looked a bit, shall we say, tubby.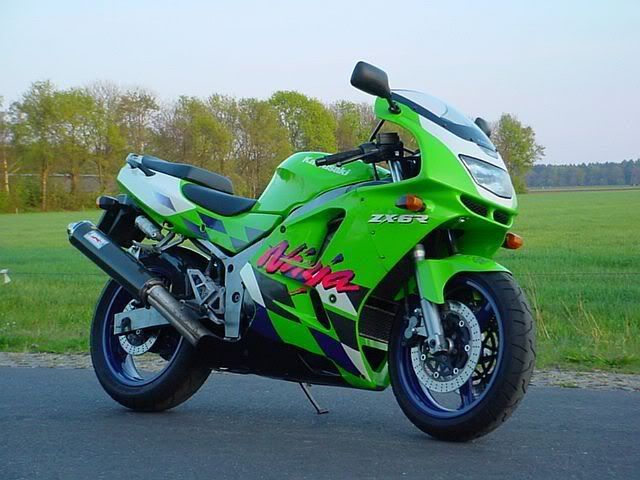 1999-2002: The Ninja 6 gets leaner and more aggressive. Those twin headlights are a ZX6-R first and the look remains throughout the years. Ram-air is even more pronounced. That thing looks like it can inhale children off the sidewalk as you ride by. Boy-racer paint stays. Personally I love this models use of paint matching on it's wheels, it's sweet. The way they've been able to make the bike look so much better with some minor touches is genius.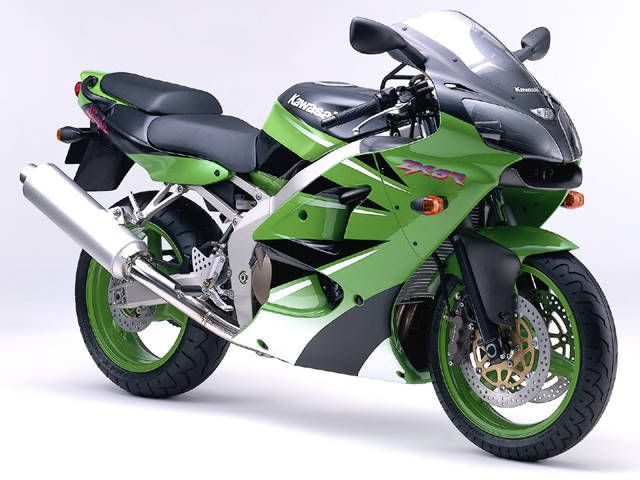 2003-2004: Holy Sh*t. This bike just got so much more gorgeous than anything before it. The sleek minimal fairing, that oh-so-sexy tail section, and of course then theres the matter of the hardware.
Gold
upside-down forks with matching golden Tokico 4-piston radial brakes and rotors are the stuff of exotic race bikes, as is the LCD tach. Match this with an aggressive nose-up facia that has a huge ram-air NACA duct in the middle of it and you've got one pretty motorcycle.
2005-2006: Did someone say "evolution"? Yup, this is like the 04 body-style was turned up two notches. The nose now ducks down into the wind and everything was slimmed for more aero supremacy and the exhaust was move under the seat. The front blinkers are even flush with the body. The hardware now is even better too. Check out that GP style swing-arm and the wheels, those front discs are petal-style, yummy. This bike is getting closer and closer to the shape of a GP bike. Stunning.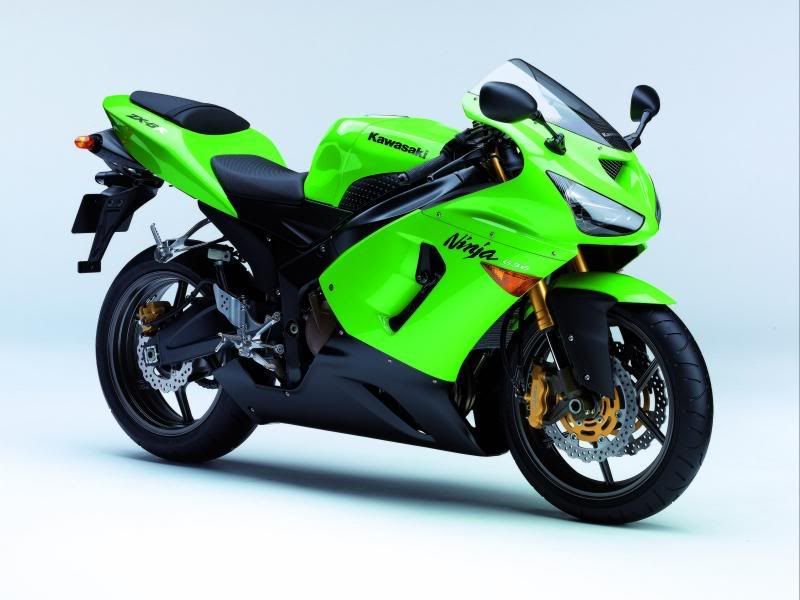 2007-XXXX: This again shows that these bikes are a few years away from being GP bike with lights. Everything is smooth and even the ram-air is a bit smaller for more pressure. The projectors are clean and an either love or hate thing. That rear seat is much less bulbous than the 06's and is a better execution for the design. The rear tail light is a cool touch. A more classic tach also replaces the cool, but much hated, LCD tach. That upper triple clamp is gorgeous. Overall the fit and finish are way up but the design is a bit boring and too safe, at least compared to some of the others.
My Conclusion: Overall, my choice as the prettiest bike is the 05-06 ZX6-R. Even though I own a 04' model, and dig it a lot too, the 05-06 model years are really stunning bikes. Well designed and executed while being thoroughly original and cool. As a design, it's safe to say I love it.
What's your conclusion??
Post and Discuss!
PEACE!
:hump6:hump6:hump6:hump6:hump6:hump6:hump6:hump6:hump6:hump6