Moto GP Style Rim Wheel Stripe Review
Well, the rebuild is coming along and hopefully by the end of the week I will have the bike finished, aside from the pinebox screamer exhaust (I will review it as well). But today I wanted to post a quick review on the wheel stripe that I installed and pass the word on regarding the ebay seller who I purchased it from.
I purchased the wheel striping from Elite Vinyl Designs and here is the link.
RIM WHEEL STRIPE DECAL STICKER TAPE 4 KAWASAKI ZX6R 636: eBay Motors (item 320596509577 end time Oct-27-10 15:46:13 PDT)
I chose the moto gp style (not labeled as such on the store) because I thought it was a little more original than your typical solid line tape.
On October 18th I chose the "Make Offer" tab and offered $10 for a red kit made specifically for the ZX6R 636. The seller immediately accepted the offer and it arrived in the mail on the 23rd.
Here is what you get. The kit came with 18 strips, which leaves two extras. (you will need them) and an instruction sheet. The picture is missing some of the sheet because the night before I installed some on the rear tire.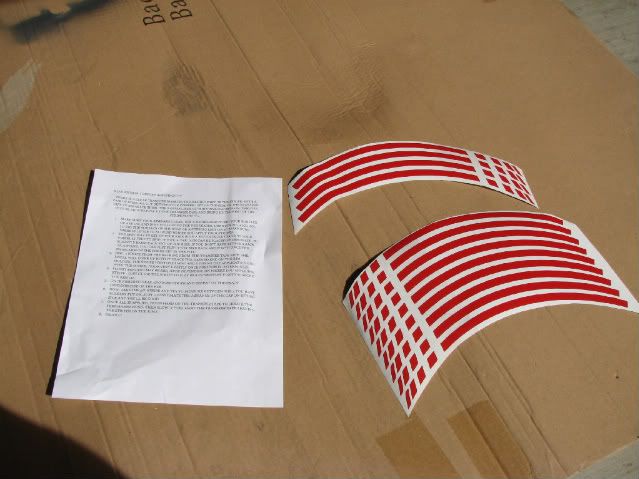 Some things you might need
The instruction sheet was helpful but left out some details that would have been helpful like how much of a gap to leave between the stripes. In the sellers defense they mentioned installing a different way, which I found harder.
Installation was very difficult and ended up being much harder than I expected. I immediately ruined the first stripe that I attempted installing. After calming down and changing my strategy I finally had half a rear tire finished in about an hour. The next day I finished all the tires in about an hour and a half.
All in all I would buy my stripes from Elite Vinyl Designs again. I really have no product comparisons so I'm basing this on the speed of responses and the price, which was reasonable and in all honesty shouldn't be more than $10 bucks. I My end result was pleasing to me but it is far from perfect. I'm sure it will cut it for the casual observer.
I hope you enjoyed the pictures and that this was helpful. I will post it on a couple of other forums as well.
Before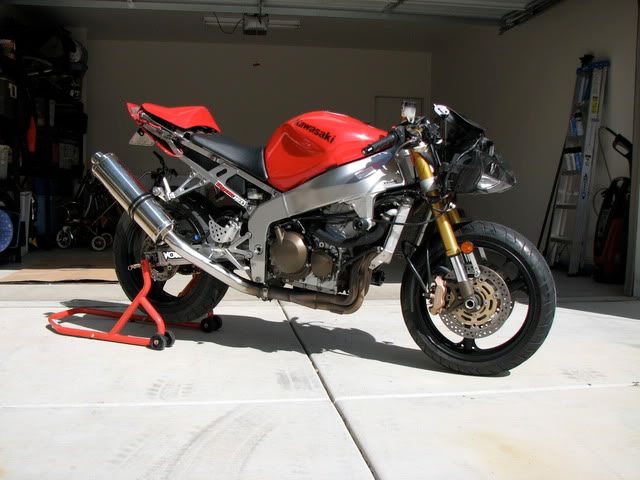 After