Discussion Starter
·
#1
·
This How To is performed on a 2003 Kawasaki ZX-6R and will be the same for any of Kawasaki's ZX models with fuel injection; other Kawasaki Fuel Injected bikes have similar or identical methods to pull the FI codes, so hopefully this will help.
There are two Self Diagnostic modes you can enter;
Dealer Mode 1
and
Dealer Mode 2
. In dealer Mode 1 only current FI codes will be displayed, and in order from lowest FI code number to highest. In Dealer Mode 2 all past and present codes will be displayed, once again lowest to highest. I will explain how to enter both modes.
Kawasaki has designed the self diagnostic system so that you can preform it with out any extra wires or leads that are not already attached to the bike; however I have a set of leads that makes the process much easier which you will see later. However I do recommend you gather up a piece of paper and a pen so you can record the FI codes that are displayed, so you don't have to try and remember all of them.
Start by removing the front seat, this process is slightly different on each model so I won't go into it, next locate the self diagnosis lead. This lead is yellow and is protruding from the wiring harness near the Battery Negative (-) Terminal.
I have created a set of lead,s that attach to the self diagnosis wire, that have an alligator clip on the end. For anyone who does this on a regular basis and does not have three hands, a lead of this type is highly recommended. Other wise you will have to pull back the shroud on the end of the self diagnosis lead, or find some other piece of wire to connect to it.
Next turn the key switch into the "ON" position on wait for the bike to finish its starting sequence. To enter
Dealer Mode 1
simply ground the self diagnosis lead continuously on the
Battery Negative (-) Terminal
. I do this by attatching my aligator clip to the terminal.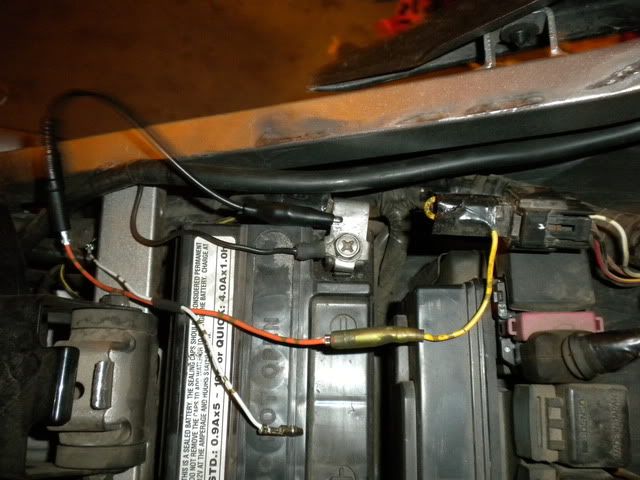 The red FI light on the dash will now start to "blink" out the codes. Long blinks are values of Ten (10), short blinks are values of one (1). So a sequence of
bliiiiiiiiiink bliiiiiiiiiink blink blink blink
would be code number 23.
The system will display all the current service codes for the fuel injection system, i.e. sensors that are currently not working properly. After all the codes have been displayed it will cycle back to the first code and continue displaying the codes in numerical order until you unground the self diagnosis lead. The reason I use the alligator clip is so that I can use both hands to record the codes as they are being displayed.
To enter
Dealer Mode 2
you will tap the self diagnosis lead on the
Battery Negative (-) Terminal
more than five (5) times within two (2) seconds and then hold it on the terminal; so "tap, tap, tap, tap, tap, hold". After doing this keep the lead on the terminal just like what you did for Dealer Mode 1. Now in Dealer Mode 2 all current and past codes will be displayed, in numerical order
not order of occurrence
. So say you just dumped your bike coming up the driveway, this would have tripped the Vehicle Down Sensor, but as soon as you cycle the key switch that sensor is reset and the FI light goes off; but now you have the bike all opened up and you have the stick coild for cylinder one (1) unplugged. In Dealer Mode 2 codes 31 (Vehicle Down Sensor) and 51 (Stick Coil #1 malfunction) will be displayed numerically. Where as in Dealer Mode 1 only code 51 would have been displayed.
Another feature in Dealer Mode 2 is the option to erase all stored service code. To do this you must already be in Dealer Mode 2; then pull the clutch lever in for at least five (5) seconds and release it, now repeat the Dealer Mode 2 tapping sequence I explained earlier and remember to hold the lead on the terminal after the 5th tap. Now all the service codes have been erased and you have a clean slate to work with.
Here is a list of all the service codes (taken from a manual for an 05 ZX-6R, so it could possibly not have codes for other models).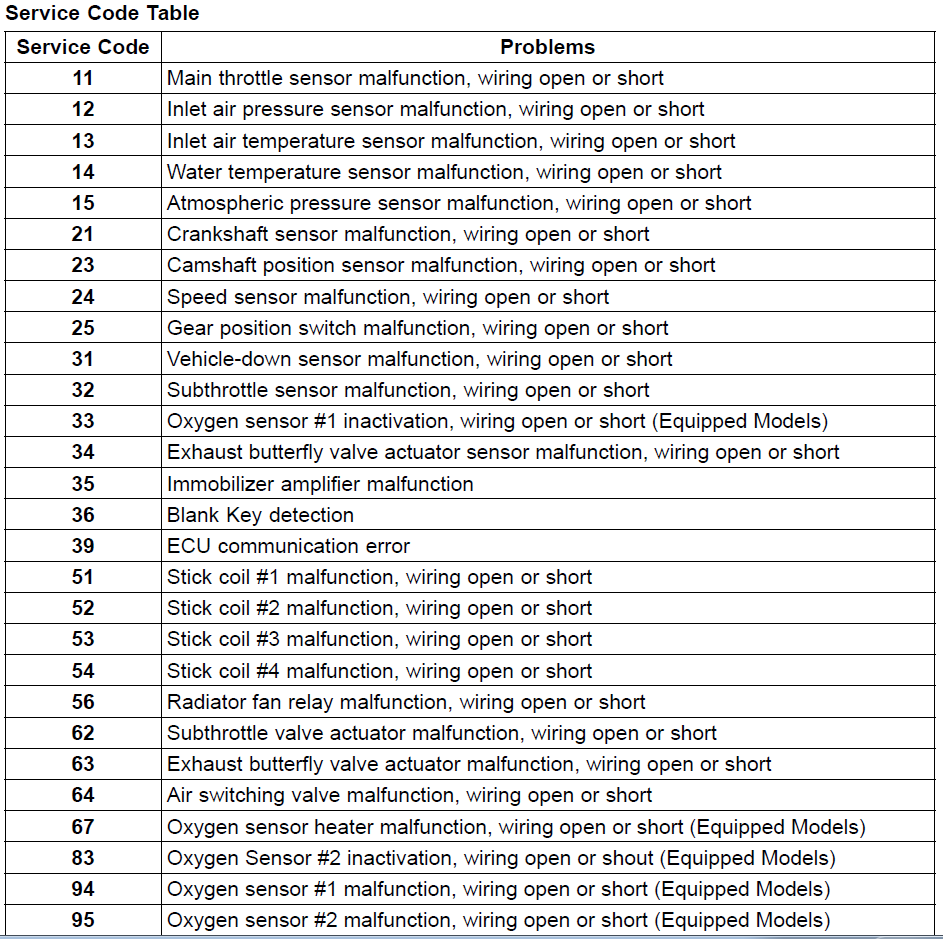 I hope I have laid this all out clear enough for you to understand, if you have any questions please ask and if you need more help with you bike problems feel free to send me a PM and I'll send you the PDF version of the Service Manual for your bike and walk you through other diagnostic and repair procedures.