I can't take full credit for this how to as I found it on zx-10r.net written by hellsrazor. Figured I'd rewrite it following the steps I took. THIS IS ONLY FOR THOSE OF YOU USING AN AFTERMARKET SLIP-ON/FULL EXHAUST.
*Note: After attempting this thing numerous times and putting quite a bit of time and money into it I can't get it to work properly for my 2011 zx6r. Other people have also tried this to no avail. I'm going to mark this as a BETA til I can get my hands on a servo buddy and dissect it to see what's going on in there. Normally I don't beg for money, but to help me figure this out faster, feel free to donate to the cause by
going to my website
and clicking the yellow PayPal "donate" button on the right sidebar. Thanks for the help!
DIY Servo Remover
(Currently in BETA)
Disclaimer:
Neither myself nor zx6r.com are reliable for anything that goes wrong in your installation/modification. If any part of this how to seems out of your league you're better off getting help or finding someone else to do it.
Note:
If you really want to have this done but are totally clueless about electronics PM me and I'll give you a price to do it for you. I won't charge labor, just supplies and shipping. You'll also have to send your servo or servo harness.
What you need:
Wire cutters & strippers​
Soldering Iron & solder​
Dremmel with grinder/sander and buffer (or something similar)​
Heatshrink & torch/lighter (optional)​
1/2 watt 220 ohm resistor (red, red, brown, gold)​
1/2 watt 4.7k ohm resistor (yellow, purple, red, gold)​
470 microfarad(uF) w/35v max capacitor​
servo motor harness​
epoxy​
wire tape​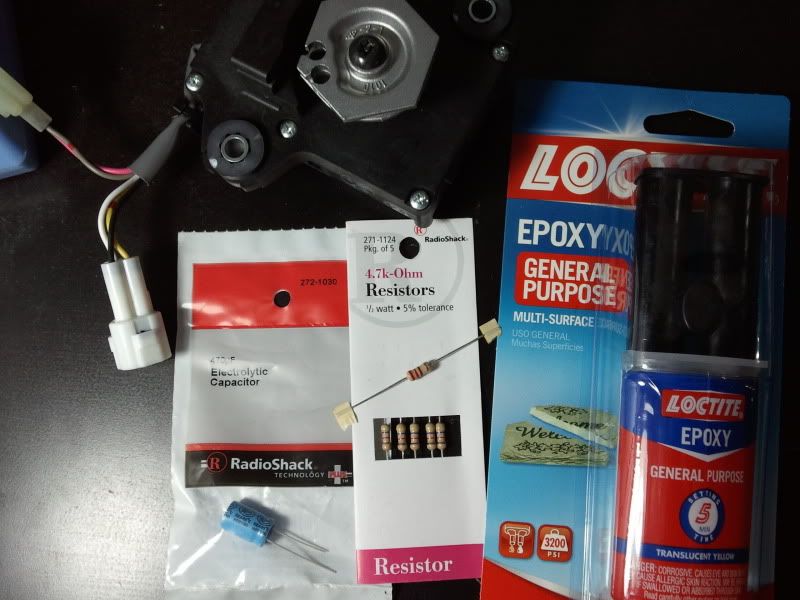 Step 1:
If you are using the servo motor out of your bike remove it now (two screws and 2 harness plugs - yellowish and white).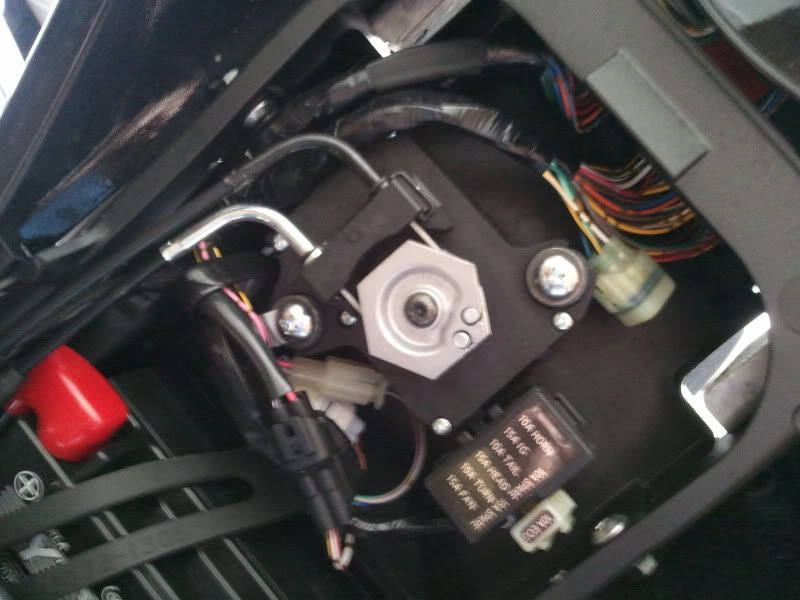 Step 2:
Cut the harness from the servo motor. Depending on preference you can make the wires longer or shorter, I made mine longer, but sort of regret that.
You can cut the gray and white wires as they will not be used.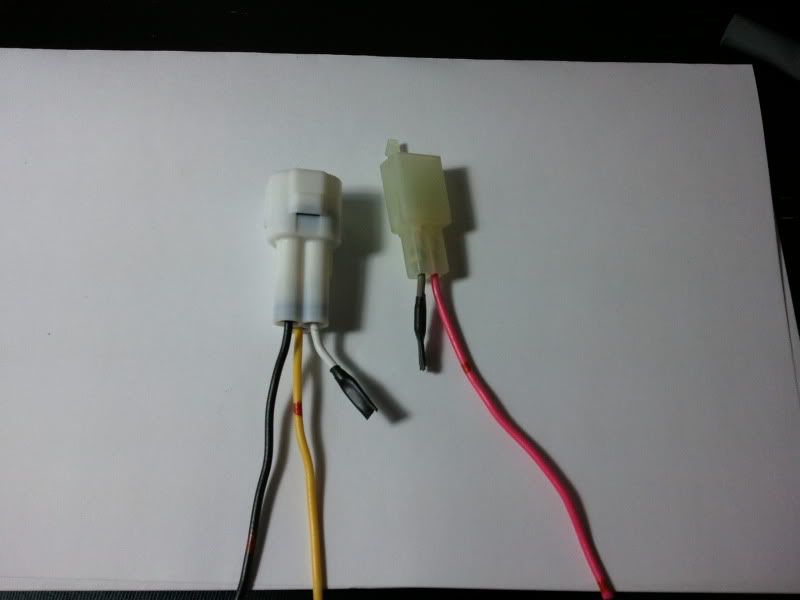 Step 3:
Following this schematic solder everything together.
Actual photo comparison: (the black line on the capasitor is ground and MUST be connected to the black wire. Resistors can go on either way as they are not polarity sensitive)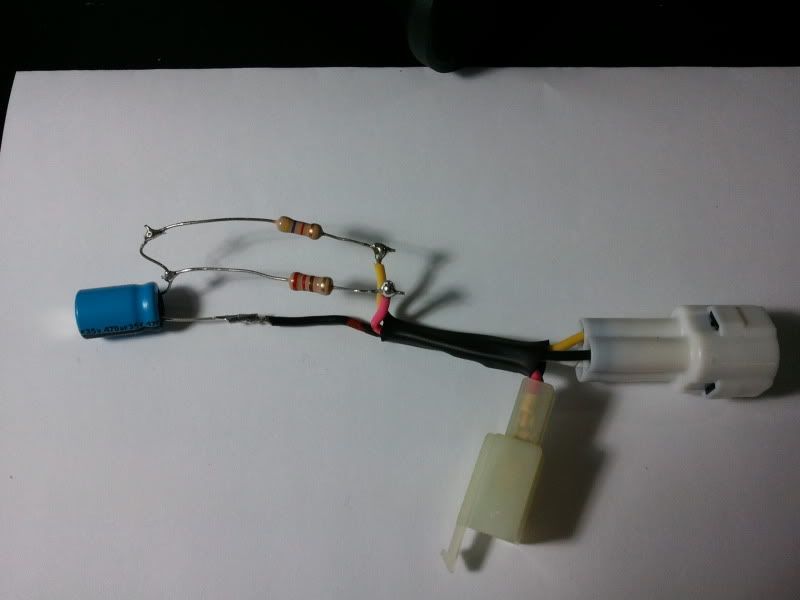 Step 4:
Now it's time to mix up some epoxy and submerge the circuit. Don't worry about being perfect, you'll have to grind it down and buff it once it dries. Just make sure there are no air bubbles as it could screw you up when you start grinding it down (as it did to me).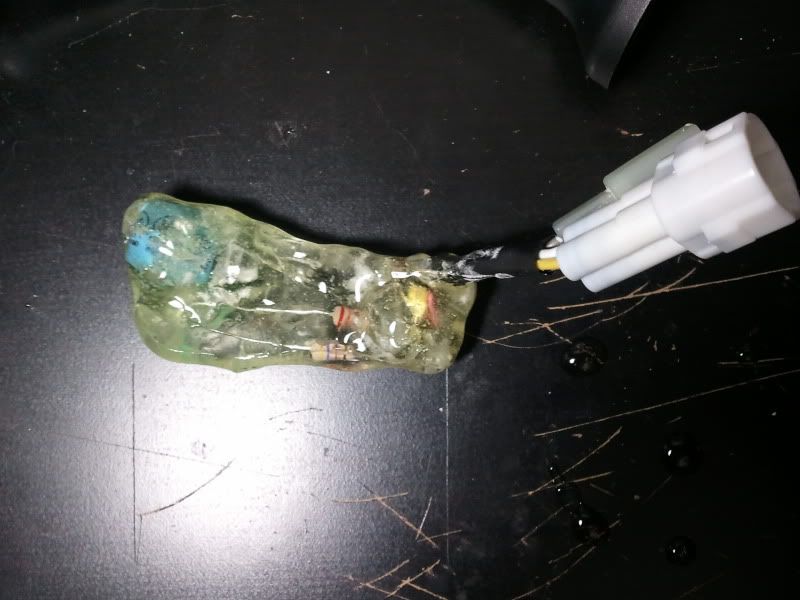 Step 5:
For extra protection i wrapped the circuit in wire tape. To prevent the circuit from bouncing around under the seat i used some of that 3M locking velcro you get with an EZpass.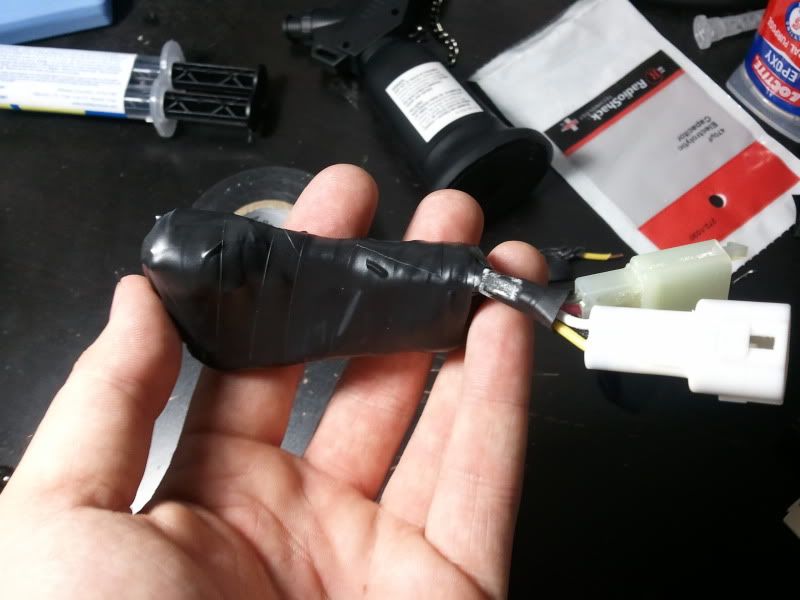 Now just plug it in and viola! No more FI light!
Learn from my mistakes!
I could have made this thing significantly smaller and neater but was pressed on time. The epoxy job came out pretty crappy considering this was my first time working with the stuff. Ended up having to make a second trip to walmart to get another tube cause i ran into a few air pockets that opened up once i sanded down. I recommend making the circuit a little closer together. Trim the resistors if you need to. Making it smaller is a big plus. Also, when shopping for epoxy, try to get the stuff that comes with the mixing tray...the plastic box likes to melt...