Discussion Starter
•
#1
•
I have these on my 2010 ZX6R's track wheels.
They usually sell around over $30 with shipping and all.
I can get them for
$20 USD shipped to United States and Canada
. Shipping will take 6 to 8 business days. Will ship them right out of Canada. For members outside USA and Canada, it'll be $3 USD more for shipping.
Colors that will be available will be Silver, Red, Black, Blue and Gold.
These will replace the rubber valve stems on our bikes. They are lighter than the rubber valve stems, and you won't need to replace them with each tire change.
Don't mistake these to the cheaper Chinese knock-offs that people are trying to pass on, these are the same exact ones sold under the Ariete brand. They are all drop forged aluminum and made in Italy.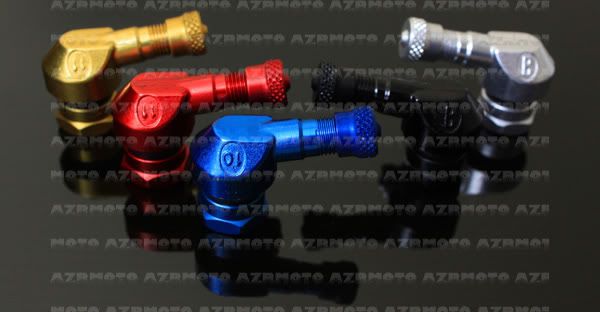 And here they are installed on my track wheels, don't mind the dusty wheels, they have been sitting for a while, since the bike is in need some repairs :sleeping:
As you can see they make it so much easier to access the valve stem to check/fill tire pressures much easier. Also since the valve stem is angled, the core of the valve stem won't fail because of the centrifugal force.
If you look up some MotoGP bikes run these, also many AMA bikes run these as well.
If you guys are interested, I'll post up payment instructions. :hump6